Lane Keeping Assistance: What It Is and How It Works
30 July, 2023
4 minutes read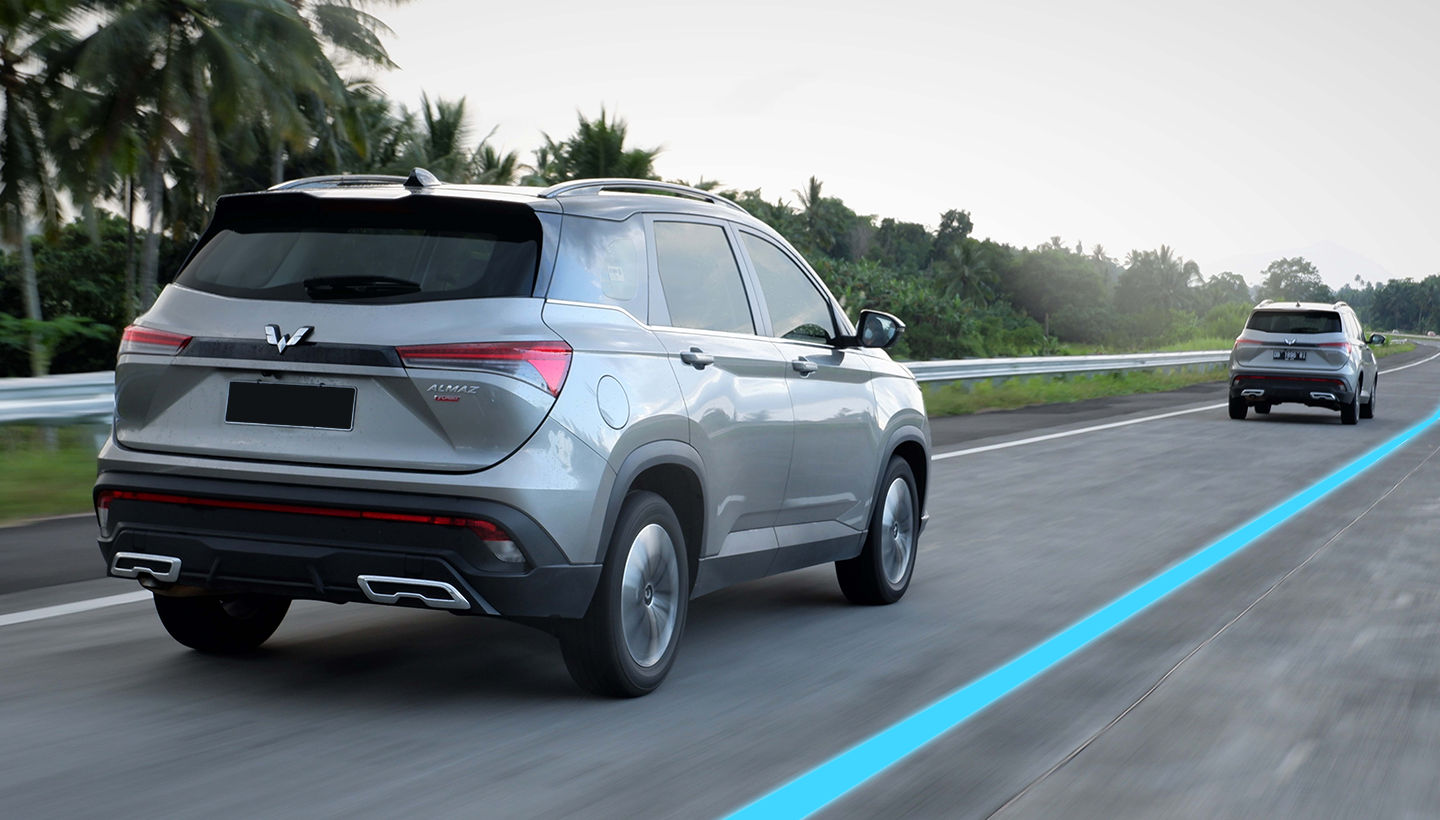 As the number of vehicles on the road continues to rise, traffic accidents have become more prevalent. Often, these accidents result from human error, including driver distractions, drowsiness, or unintentional lane departure leading to collisions with surrounding vehicles.
This challenge has spurred the development of safety innovations in vehicles, including Lane Keeping Assistance (LKA), an integral part of the Advanced Driver Assistance System (ADAS). This feature is present in some recent car models, such as the Wuling Almaz and Wuling Alvez. But what exactly is Lane Keeping Assistance, and how does it work?
Understanding Lane-Keeping Assistance
Lane Keeping Assistance is a feature within the ADAS that aids drivers in keeping their vehicles within the lane. This helps drivers maintain safe lane positioning, offering a solution to unintentional lane departures and reducing collision and accident risks. The system employs advanced sensors to monitor the vehicle's lane position and offers corrective actions when necessary.
How Lane Keeping Assistance Works
Lane Keeping Assistance operates by utilizing a combination of sensors, cameras, and control systems that work together to ensure the vehicle remains within the designated lane. To break it down further, here's how LKA works:
Camera Sensors: LKA employs a front-facing camera sensor installed on the windshield. Continuously scanning the road ahead, this camera analyzes lane markings and detects the vehicle's position relative to those markings.
Real-Time Processing: As the vehicle moves, real-time data from the camera is processed by the LKA control unit. This system compares the current position of the vehicle with its expected position within the lane.
Corrective Action: If the system detects deviation from the lane markings without the driver activating the turn signal, it interprets this as an unintentional lane departure, possibly due to drowsiness or distraction. LKA then automatically corrects the steering to guide the vehicle back into the safe lane.

Functions of Lane-Keeping Assistance
Lane Keeping Assistance offers several functions to assist drivers, including:
1. Accident Prevention
LKA significantly reduces the chances of unintentional lane departure-related accidents. It helps prevent potential collisions with other vehicles or road barriers by providing warnings and corrective assistance.
2. Preventing Driver Fatigue
Highway driving can be monotonous, leading to driver fatigue and drowsiness, especially during long journeys. LKA helps maintain the vehicle within the lane, reducing cognitive load on the driver and promoting heightened alertness during extended drives.
3. Enhancing Road Safety
As part of the ADAS, Lane Keeping Assistance contributes to overall road safety. By helping drivers maintain proper lane position, LKA ensures safe driving practices that don't compromise the safety of other vehicles.
Conditions for Optimal LKA Performance
For Lane Keeping Assistance to function optimally, certain conditions must be met:
1. Clear lane markings
LKA efficiency relies on clearly visible lane markings. Faded or obstructed lane markings may result in decreased accuracy compared to normal conditions.
2. Speed Range
LKA is typically designed to operate within specific speed ranges. In Wuling Almaz, the feature operates at speeds of 10–180 km/h, while in Wuling Alvez, it integrates with Traffic Jam Assistance (TJA) and Intelligent Cruise Assistance (ICA).
3. Environmental Factors
Adverse weather conditions, excessive sunlight, or foreign debris like dust can affect LKA performance due to reduced sensor visibility. The feature works best in clear weather and standard driving conditions.
Lane-keeping assistance is a valuable safety feature that plays a vital role in preventing unintentional lane departure accidents. Leveraging advanced camera and sensor technology, LKA helps drivers maintain their vehicle within the intended lane, enhances road safety, and reduces the risk of accidents.
However, it's important to note that Lane Keeping Assistance is not an autopilot system meant to replace the driver. Instead, it aids drivers in safer driving practices. Therefore, drivers should remain actively in control of the vehicle and vigilant without solely relying on lane-keeping assistance.