Wuling Carries The Spirit of 'Experience All At Once' at The IIMS 2023 Exhibition
16 February, 2023
3 minutes read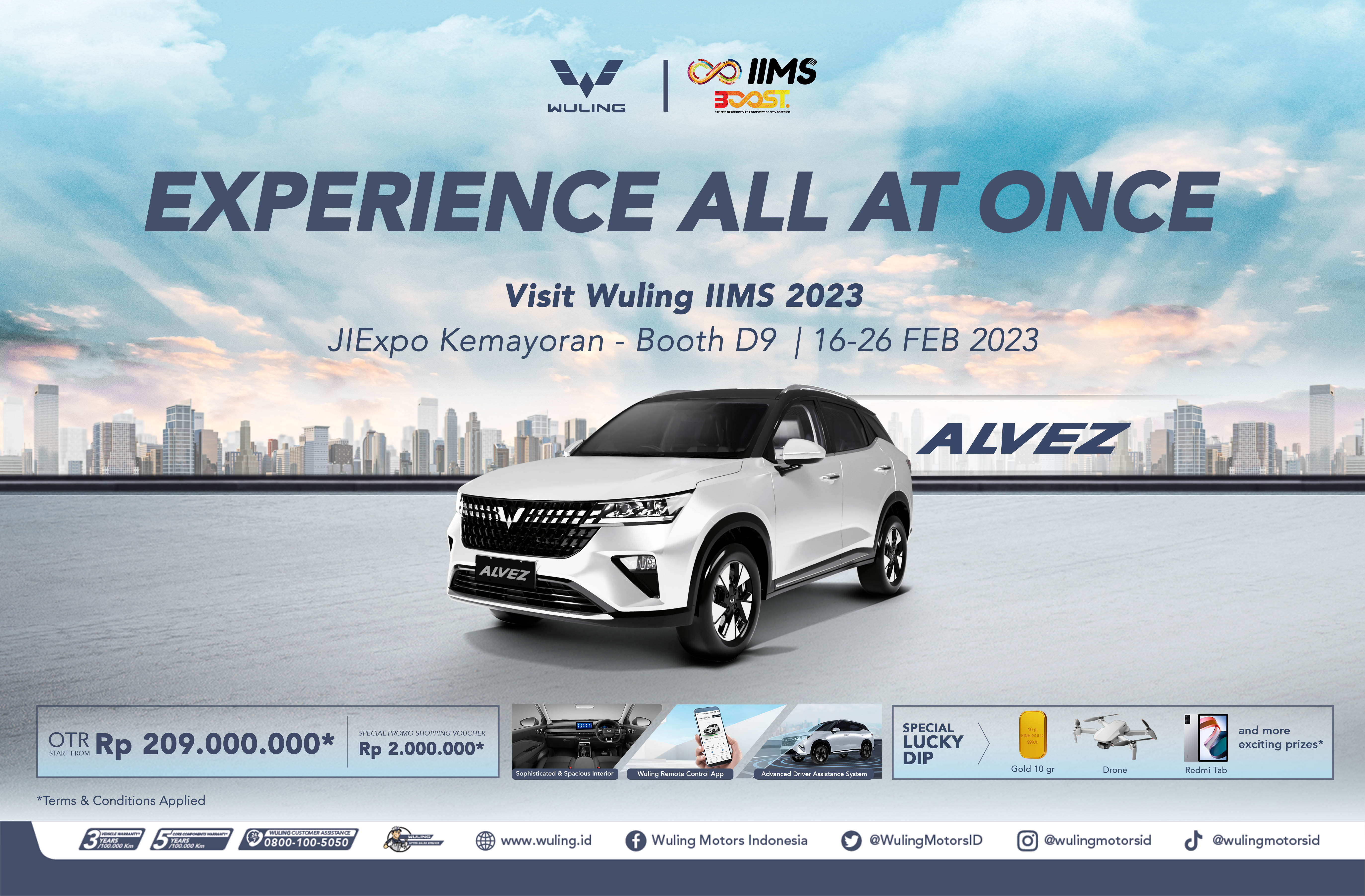 Featuring a complete product line and a variety of the latest innovations and attractive promos for visitors
Jakarta, 16 February 2023 – Wuling Motors (Wuling) is participating again at the Indonesia International Motor Show (IIMS) 2023, an annual automotive exhibition with the theme 'Experience All At Once' at JIExpo Kemayoran until 26 February 2023. Exhibition visitors can see first hand Wuling's complete product line and get various attractive promos and the opportunity to do interactive activities during the exhibition. Not to mention, Wuling also held a test drive session for visitors who wanted to try their flagship product range.
"By carrying the theme 'Experience All At Once', we want to invite consumers to see and feel the sensation of driving directly at the IIMS 2023. Not only displaying superior product lines that have been marketed in Indonesia, but we also present our newest compact SUV, Alvez. Come visit the Wuling booth and enjoy a series of interactive activities, special offers, to test drive the best product lines from Wuling which are too bad to be missed," explained Dian Asmahani as Brand & Marketing Director of Wuling Motors.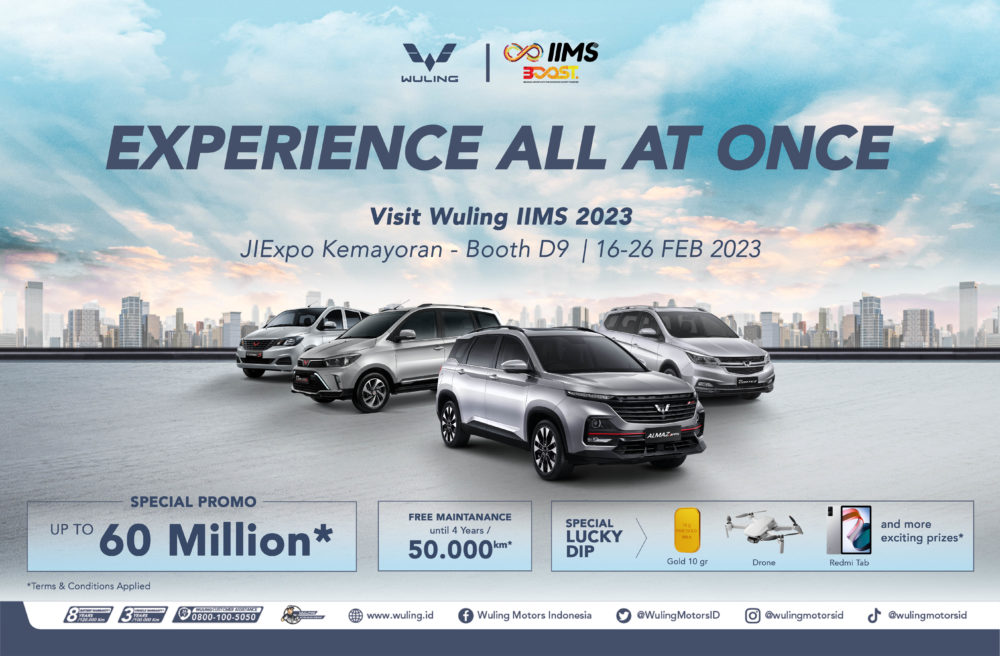 Wuling presented a total of 10 units of its products at booth D9 with a size of 868 m2 which is located in Hall 6, JIEXpo Kemayoran. Starting from 7 display units that are displayed covering various segments ranging from New Energy Vehicles, SUVs, MPVs, to commercial vehicles. The first segment comes from New Energy Vehicles namely, Air ev and Almaz Hybrid. Furthermore, the SUV segment was enlivened by the Almaz RS Pro and also the presence of the latest Compact SUV, Alvez. Meanwhile, the MPV product lines displayed included New Confero and New Cortez.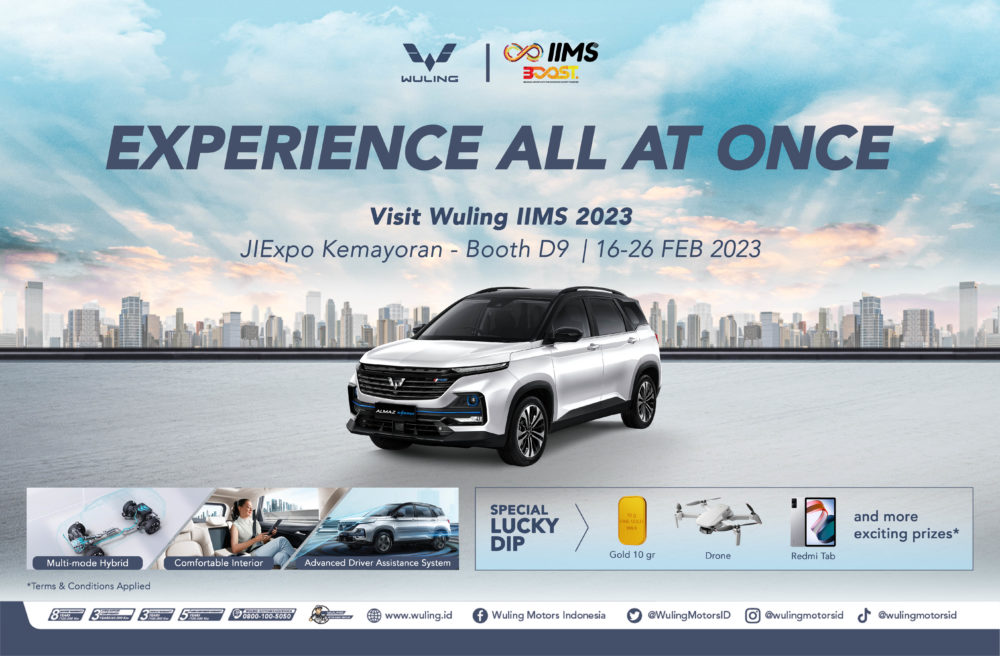 There are also three special display units consisting of two Air ev modifications and one Formo Max in collaboration with Kopi Nako. In particular, Wuling features a modified Air ev series with a wide selection of accessories so that it can inspire the user's personalized style. The various modifications come from a collaboration with NMAA and there are also modifications from Wuling that carry the Futuristic Adventure concept. Formo Max, Wuling's new commercial vehicle that was launched this year, is also transformed into a mobile cafe. This innovation is a result of a collaboration with Kopi Nako, a local coffee shop that has lots of outlets spread across several big cities in Indonesia.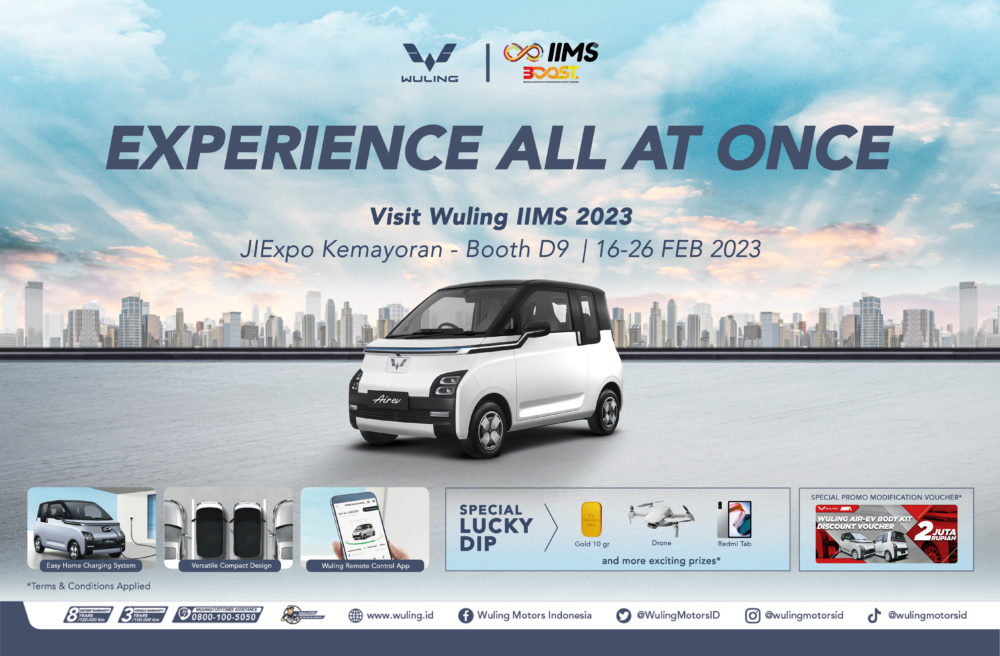 Visitors who want to experience the driving sensation of Wuling products, can directly try the 6 available test drive units. These product lines include 2 Wuling Alvez, 2 Air ev, 1 New Cortez, and 1 Almaz Hybrid.
Wuling also provides special offers for every visitor who makes transactions during the exhibition period with various conveniences such as low down payments, affordable installments, and free periodic service fees for up to 4 years/50,000km. For every visitor who makes a transaction, they have the opportunity to get a variety of prizes such as gold bars, drone, tablet, smartwatch, wireless car vacuum cleaner, wireless earbuds, and e-money through lucky dip during IIMS 2023. Certainly, terms and conditions for all the promos above may apply.