Get to Know Wuling Air ev as the Official Car Partner of ASEAN Summit 2023 in Labuan Bajo
9 May, 2023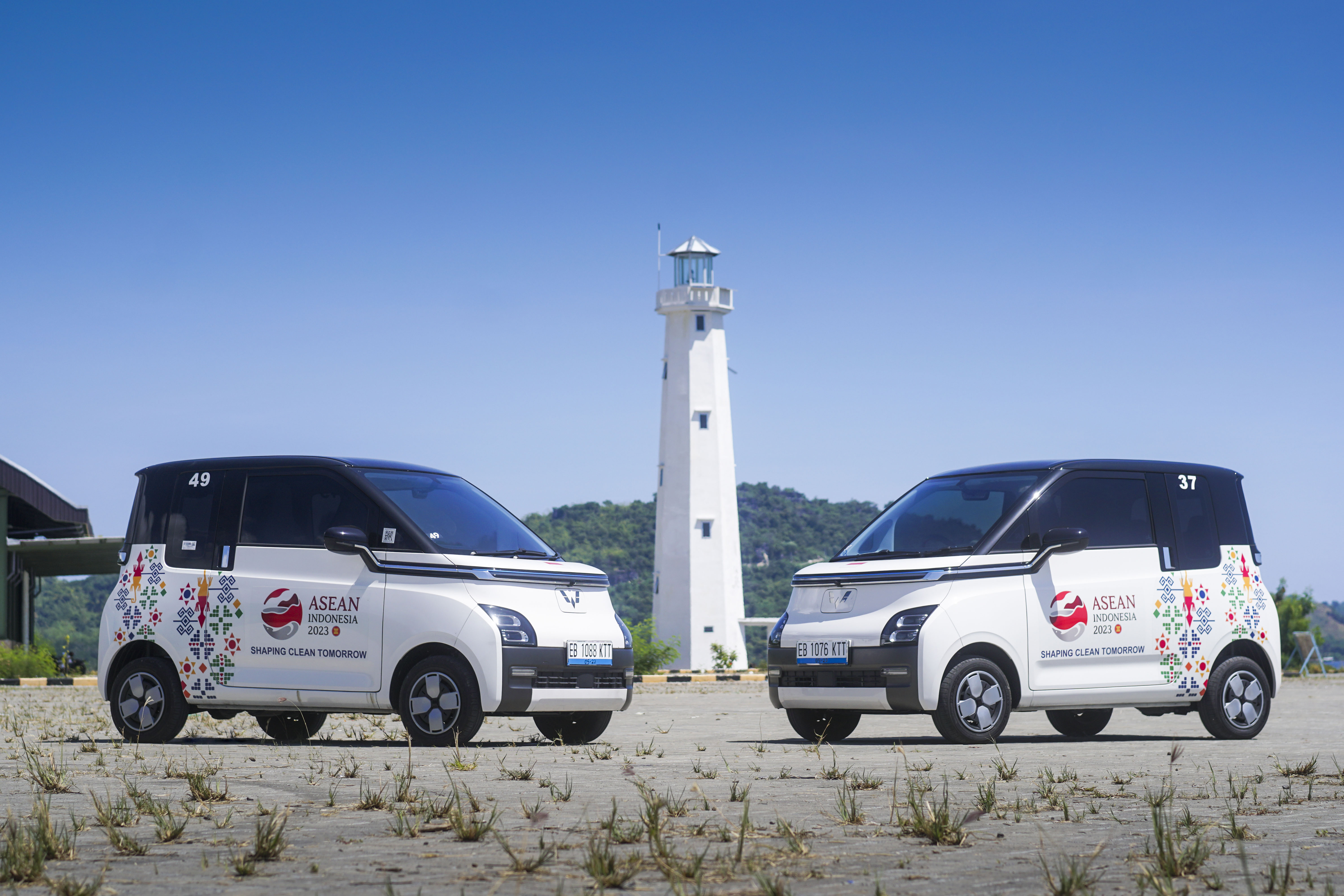 The Wuling electric car prioritizes various conveniences to support the mobility of the delegates
Labuan Bajo, May 8 2023 – Approaching the ASEAN Summit 2023 in Labuan Bajo which will be held on 9-11 May 2023, Wuling Motors (Wuling) has completed final preparations to ensure all Air ev units used are in good condition. As the Official Car Partner of the ASEAN Summit 2023, this Wuling electric vehicle will not only provide environmentally friendly mobility for all delegates, but also present various conveniences that support the mobility of delegates during this summit.
"Wuling Air ev is equipped with a variety of conveniences and modern features that are ready to support environmentally friendly mobility during the ASEAN Summit 2023 taking place in Labuan Bajo, East Nusa Tenggara. This electric vehicle is easy to use and charge. It also has various modern features starting from voice commands in Bahasa Indonesia, complete safety features to various driving support features, also uplift the comfort of driving with Air ev," explained Dian Asmahani Brand and Marketing Director Wuling Motors.
At the ASEAN Summit 2023, Wuling deployed 50 units of Air ev Long Range variant which can reach a distance of up to 300 kilometers when fully charged. This electric vehicle is also supported by qualified safety features to ensure comfort for the delegates' mobility. These features consist of two airbags that protect the driver and first row passenger as well as a sturdy frame. Moreover, the braking system is supported by disc brakes on the front and rear wheels, ABS, EBD, Hill Hold Control (HHC), TPMS, Sound Module for pedestrian Warning, Electronic Stability Control (ESC) and Electric Parking Brake with AVH.
All Air ev units presented at this international-scale event have a dual tone exterior color, namely Pristine White combined with Starry Black on top.
Wuling decorated the 50 Air ev units with a special livery. On the right and left doors are the official logo of the ASEAN Summit 2023 and the words 'Shaping Clean Tomorrow' which is Wuling's spirit to contribute to producing cleaner air in the future. Furthermore, the colorful Labuan Bajo motif also adorns the side of the Air ev. On the trunk door, Wuling displays the words 'Made in Indonesia' which emphasizes this electric vehicle is produced domestically. In addition, there is a red and white flag patched on the hood.
Interior design of Wuling Air ev applies modern concepts and technology that highlight aspects of future vehicles. This electric car emphasizes a minimalist design on panels and door trim. The aspect of driving comfort is also supported by the application of Synthetic Leather Seats on all seats and a wide view.
Wuling Air ev is supported by an Intelligent Tech Dashboard which combines a simple yet futuristic style thanks to the application of the Integrated Floating Widescreen with a 10.25-inch meter cluster screen and a head unit screen of the same size. On this dashboard, there is also a Multifunction Steering Wheel which is equipped with audio operation buttons and menu settings. Driving with Air ev is even easier with the Indonesian language voice command feature that can help operate various features, namely Wuling Indonesian Command (WIND).
Ease of driving the Air ev is also supported by the Rotary Gear Selector. Users can rotate this futuristic knob to easily shift the transmission. Besides, there are also driving mode options, namely Normal, Eco and Sport, which can be selected by pressing the E/S button located on the dashboard.
Even though it looks compact from the exterior, Air ev has a spacious 4-seater configuration with a 50:50 configuration setting on the second row of seats to provide more access, especially when carrying goods. This also supports the delegates to travel comfortably with Air ev.
Since its launch in August 2022, the electric vehicle market share in Indonesia has been dominated by Air ev in a short period. This environmentally friendly vehicle with the tagline 'Drive For A Green Life' has also won various awards in the automotive industry. Wuling Air ev has been well received by consumers in Indonesia and is trusted to be a traveling companion for creating more environmentally friendly mobility in the future.