Wuling Holds Special Year End Sale (YES) Promo Throughout the End of This Year
10 November, 2022
2 minutes read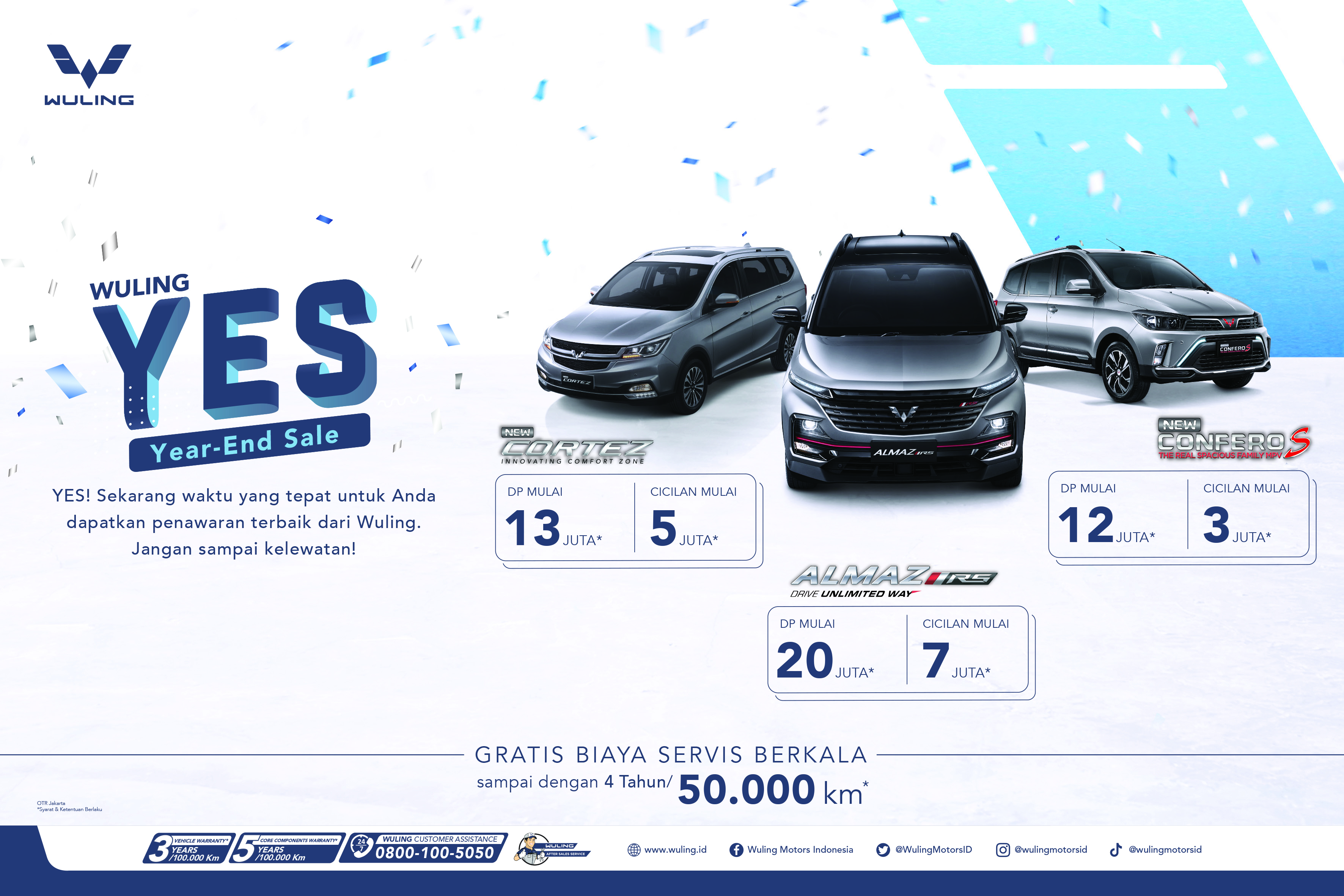 Providing convenience for consumers to own their choice of Wuling products until the end of December
Jakarta, November 10 2022 – Towards the end of 2022, Wuling held a promo program called YES or Year End Sale which offers various special facilities for purchasing Almaz RS, New Cortez, and New Confero S. This offer is valid from November until the end of the year. In this promo program, consumers can enjoy special offers ranging from low down payments, and affordable installments to free periodic service fees.
"We see the enthusiasm and need of the people to buy new vehicles towards the end of the year continues to increase. Therefore, we provide convenience for people who want to have their preferred Wuling product line through the YES program which is applicable throughout Indonesia. Let's take advantage of this special opportunity to drive with Wuling towards a better life in line with the spirit of 'Drive For A Better Life' right now, "explained Dian Asmahani as Brand & Marketing Director of Wuling Motors.
Regarding the program offered this time, Almaz RS can be owned by consumers with a down payment starting from IDR 20,000,000. The First Intelligent Digital Car, which is equipped with the Wuling Interconnected Smart Ecosystem (WISE) innovation that combines the Internet of Vehicle (IoV) and Advanced Driver Assistance System (ADAS) is also offered with affordable installments starting from IDR 7,000,000.
Wuling also presents an attractive offer for the purchase of New Cortez. The Wuling Smart MPV which has been equipped with modern innovations, ranging from voice commands in Indonesian or Wuling Indonesian Command (WIND) to the Wuling Remote control app via the Internet of Vehicle (IoV) is also offered with a down payment starting from IDR 13,000,000 and affordable installments starting from Rp. from IDR 5,000,000.
Moreover, There is also an interesting promo for New Confero S, Wuling presents a light down payment starting from IDR 12,000,000. Consumers can also get installments starting from IDR 3,000,000 to have an MPV product that is equipped with a spacious cabin as well as safety and quality features in its class
In addition, Wuling also offers a free program of periodic service fees for 4 years or 50,000 kilometers (whichever comes first) in the YES program for Almaz RS, New Cortez, and New Confero S. All Wuling Year End Sale programs apply terms and conditions.