Wuling Alvez 'Style and Innovation in One SUV' Greets The People in The City of Heroes
5 April, 2023
4 minutes read
The latest compact SUV from Wuling was showcased along with other innovative product lines at Pakuwon Mall
Surabaya, 5 April 2023 – Continuing the series of Wuling Alvez launches in several cities in Indonesia, today Wuling Motors (Wuling) together with PT Arista Jaya Lestari, PT Putra Perdana Indoniaga, PT Maju Global Motor, and PT Berkat Langgeng Sukses Sejati officially markets their newest product line for people in Surabaya, East Java with prices starting from IDR 214,500,000 to IDR 300,500,000 (OTR Surabaya). Consumers could see first-hand the compact SUV that combined stylish design and innovation at the Wuling exhibition held at Fashion Atrium, Pakuwon Mall until April 9, 2023. There are also various attractive promos that can be obtained during the launching period. Consumers who want to try their dream car can enjoy a variety of test drive units available.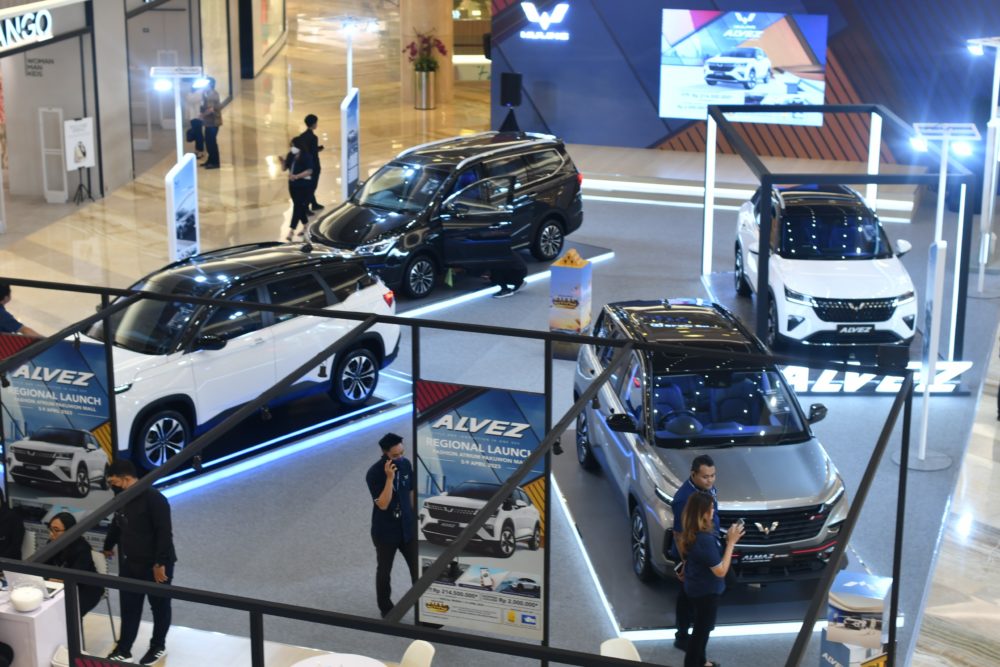 "Alvez is a product innovation that complements the current SUV segment from Wuling. After being launched last February nationally, we are now bringing this stylish and innovative compact SUV to the people of Surabaya and its surroundings. Visit Pakuwon Mall until April 9 to see first-hand the various innovations from Wuling and try the fun driving experience with Alvez," said Edison, Regional Sales Manager of Wuling Motors.
Alvez means 'All At Once' in English which symbolizes a combination of stylish exterior design, modern interior and innovative driving technology in one SUV product. In line with this, Wuling also pinned the tagline 'Style & Innovation in One SUV' on Alvez. With all its advantages, this compact SUV is intended for those who are young at heart, modern in style, and smart decision-making.
Full of style nuances are instantly visible on the exterior of Alvez, thanks to the application of dynamic dual-tone colors, LED DRLs and adjustable LEDs on the main lights and LED taillights, bold front grille design, and cutting-edge 16" wheels. The aura of modernity and sophistication of innovation in this car is getting thicker with the embedded electric sunroof and the use of classy materials so that users are more comfortable on every trip.
Moving on to other features, users will experience a pleasant driving experience with the entertainment features found on this Wuling SUV. In order to support a modern and confident driving experience, a variety of smart innovation technologies in the form of Wuling Indonesian Command and Wuling Remote Control App are available to accommodate the driving needs of its users.
Capable safety features are also available at Wuling Alvez. Advanced Driver Assistance System (ADAS) technology is embedded so that drivers and passengers could drive safely. Alvez's safety side is further supported by complete safety features, starting from the Rear Parking Camera, Electronic Stability Control, to the SRS Airbag at the front to provide peace of mind while travelling.
 Wuling also provided a variety of special offers, ranging from low down payments, affordable installments, to free periodic service fees for up to 4 years/50,000km. There is also the 'Wuling Emas' program (Exciting Ramadan sale) which provides an opportunity for consumers to get up to 50 grams of gold bars. In addition, visitors who purchase Alvez are entitled to a shopping voucher of IDR 2,000,000. Furthermore, there is also a lucky dip program with gold bars and e-money prizes for visitors who make transactions. Wuling also provides an 'Almaz Trade-In Program' aimed at Almaz series owners who want to trade-in their units into Almaz Hybrid. Consumers only need to provide their Almaz vehicle registration and are entitled to an additional trade-in promo of IDR 5,000,000. Certainly, terms and conditions applied for this promo.
Apart from that, Wuling also displays other product lines in this exhibition including Almaz Hybrid, Almaz RS Pro, New Cortez, and Air ev. Not to forget the Alvez test drive unit provided for consumers who want to try driving with the latest product from Wuling.