Wuling BinguoEV Carries an Iconic Design, a Comfortable Cabin, and Complete Features
17 November, 2023
3 minutes read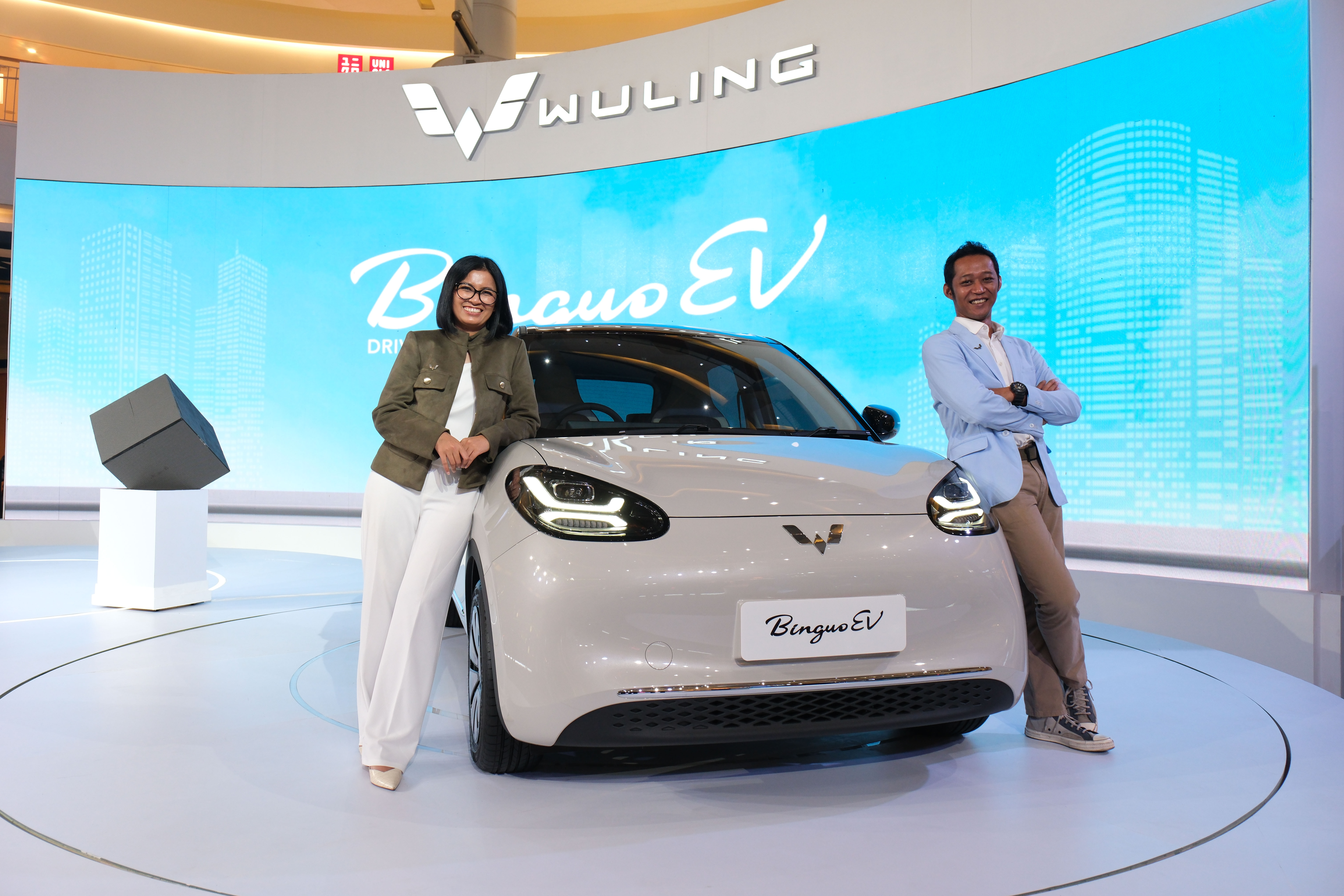 The electric vehicle is equipped with a high-standard battery, strong frame design, and various convenient features
 Tangerang Regency, November 16, 2023 - In the BinguoEV (pronounced: Bing-go EV) pre-launch event, Wuling Motors (Wuling) today also held a media briefing session to provide a more in-depth explanation of Wuling's latest electric car. During the event held at Foek Lam, Summarecon Mall Serpong, Tangerang Regency, Wuling presented a comprehensive explanation regarding the iconic appearance, and innovative features that support the driving experience.
"Wuling BinguoEV not only offers an iconic look but also innovative features that provide a pleasant driving experience. Battery safety and a strong chassis are also our top priorities in designing BinguoEV, so consumers can feel peace of mind while traveling with Wuling's latest electric vehicle. We are committed to continuing providing high-quality products to support sustainable mobility in line with the spirit of 'Drive For A Green Life'," explained Danang Wiratmoko, Product Planning of Wuling.
In terms of exterior appearance, the BinguoEV has an iconic design that is enhanced by timeless visuals. At the front, there is an X-shaped LED Headlamp and Diamond Corrugated Grille. The BinguoEV features a Flowing Water Body Curve on the sides and a Water Splash Wheel Cap that creates an elegant look with a unique feel. At the rear, the Binguo EV is equipped with an X-shaped LED Rearlamp and Streamline Ducktail that embraces a modern and futuristic style.
The BinguoEV features a variety of interior features that make it an electric car that is not only environmentally friendly but also comfortable and spacious. The BinguoEV features more spacious and accessible storage space with a 50:50 seat configuration in the second row. Drivers and passengers can easily organize their belongings with 15 compartments. The BinguoEV also boasts spacious headroom and legroom in the second row that support comfort and a 6-way electric driver's seat adjustment that offers easier customization of the seating position.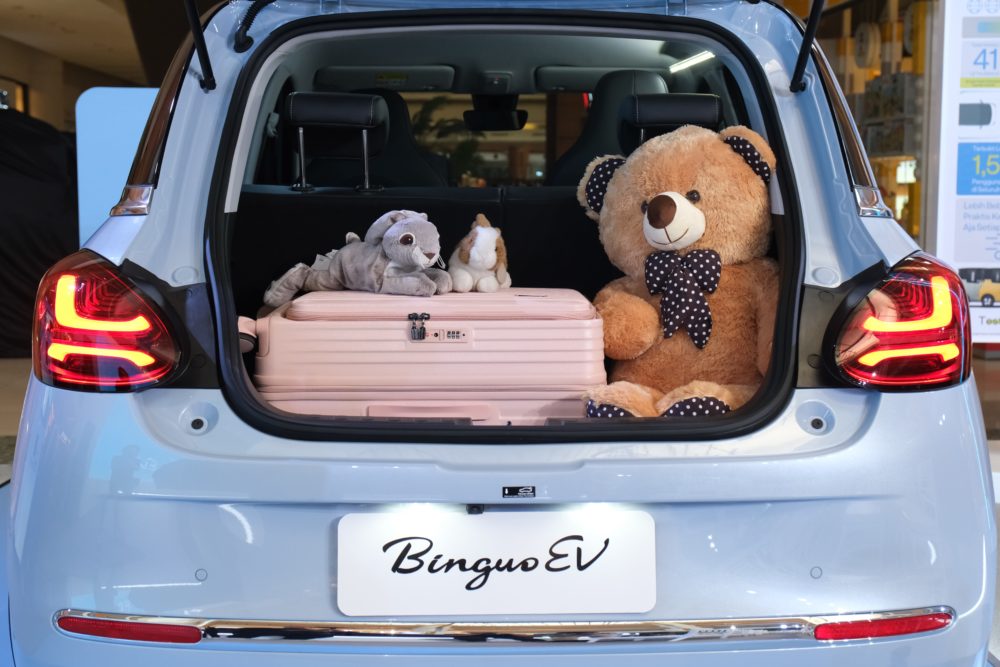 Wuling's second electric vehicle is also equipped with a variety of advanced technologies, such as an integrated 10.25-inch TFT Dual Screen. Then, the Floating Island Center Console creates a futuristic and charming look, while elegant interior color choices, such as Brown and White for the Milk Tea and Mousse Green exterior color variant, and Black and White for Galaxy Blue color, provide the opportunity for personalization by the users. There are also Soft Touch Panels that add a luxurious feel and a semi-leather bench that provides more comfort.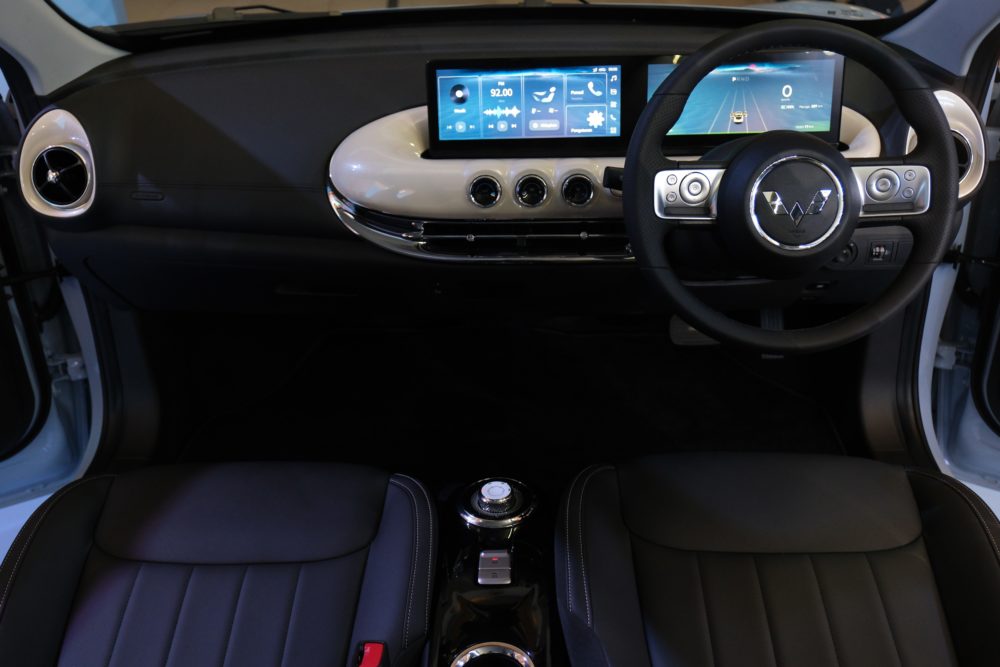 Wuling's latest electric vehicle uses very strong materials in the frame design, where around 74% of the frame uses High Strength Steel (HSS) and Ultra High Strength Steel (UHSS) in 25 key safety-related parts. This significantly improves the impact resistance and overall safety of the vehicle. In addition to the full range of safety features, the BinguoEV provides comprehensive protection for the driver and passengers, proving that safety is a top priority in the design of this electric car.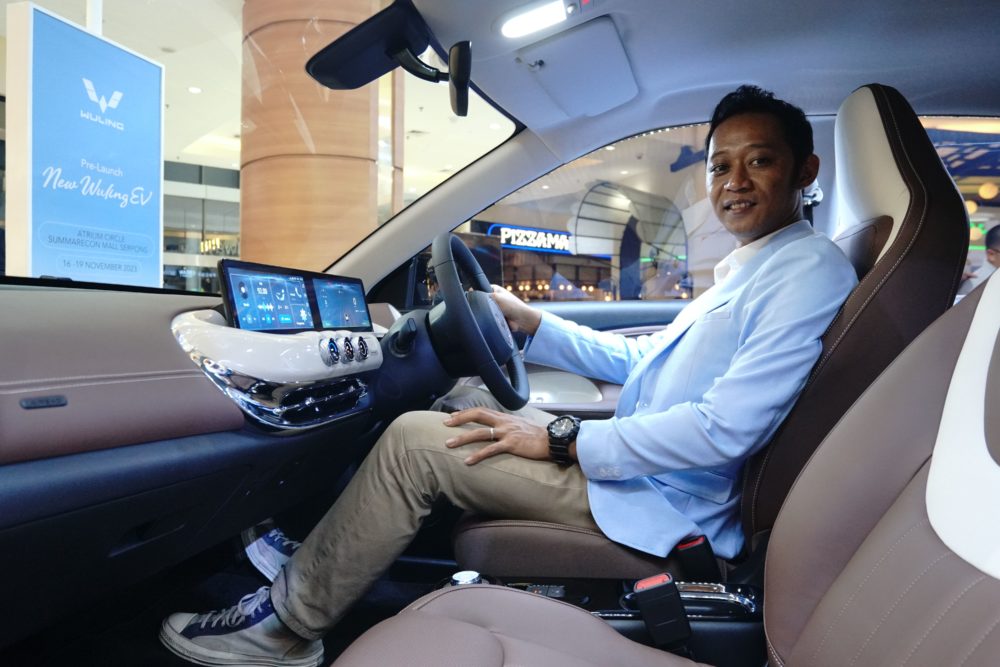 BinguoEV also provides users with a series of driving features that make traveling easier. These include Cruise Control, Rear Parking Camera, Smart Start System, 4 driving mode options (ECO, ECO+, Sport, Normal), 4 full-range speakers, and ISOFIX.
For additional information, Wuling offers BinguoEV with two mileage variants, namely 333 km and 410 km. BinguoEV is also supported by an IP67 battery that ensures reliability and safety during daily use.