Wuling BinguoEV Pre-Launch, Customers Can Already Pre-Book with Various Benefits
17 November, 2023
3 minutes read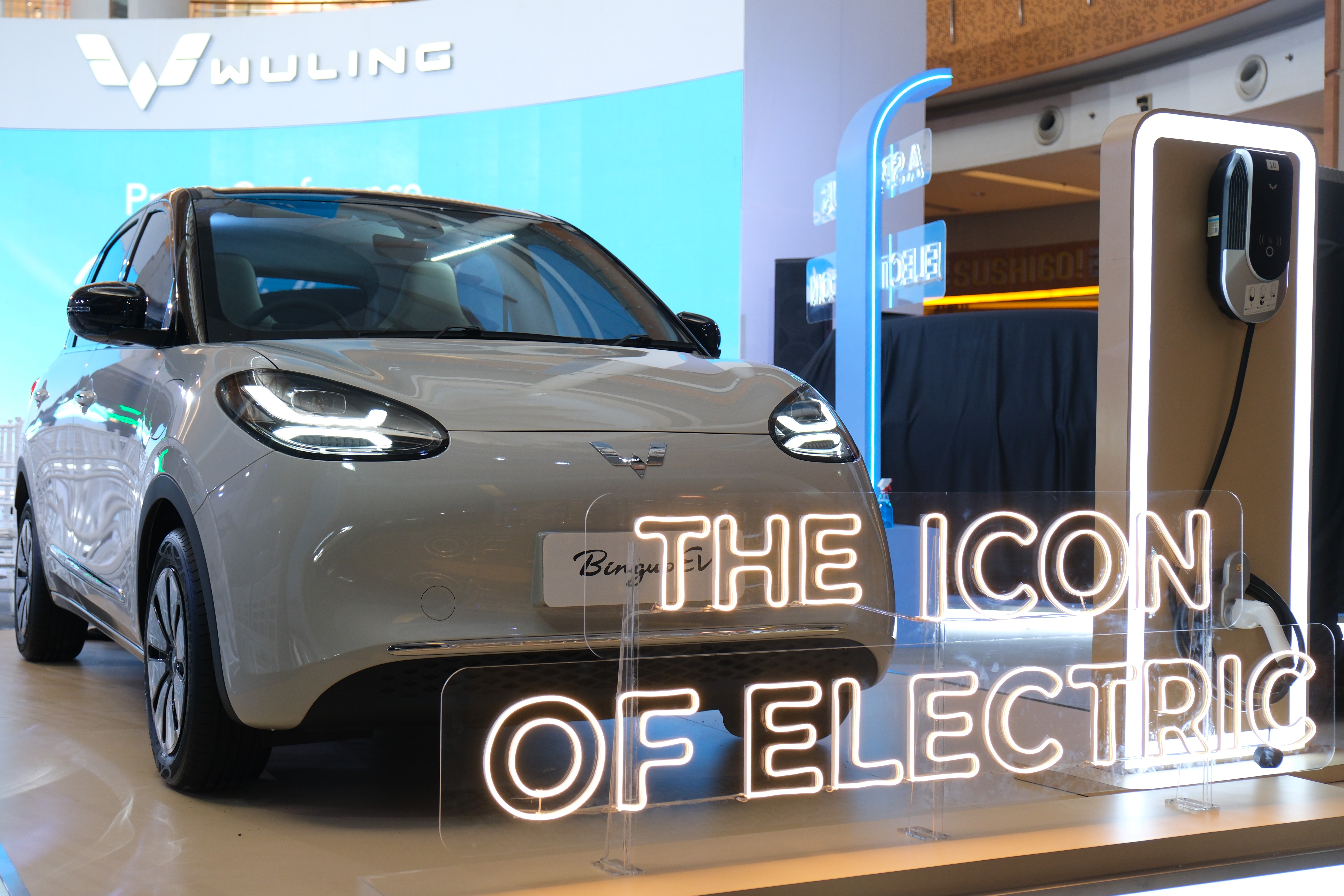 Customers who make orders during the pre-launch period are entitled to the Electric Icon Priority Pack.
Kabupaten Tangerang, 16 November 2023 – Wuling Motors (Wuling) announced the commencing of the pre-book period for its newest electric vehicle, BinguoEV (pronounced: Bing-go EV) at the Wuling BinguoEV Pre-Launch event held at Atrium Circle Summarecon Mall Serpong, Tangerang Regency. Customers who are interested in owning Wuling's second electric car in Indonesia can make reservations starting today with various benefits in the form of the Electric Icon Priority Pack.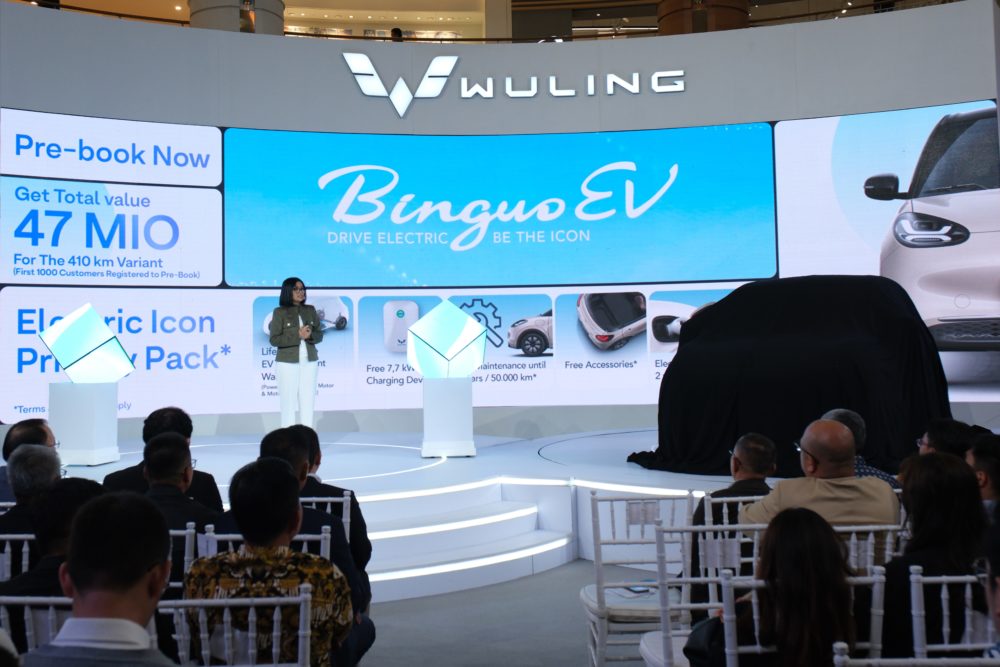 "We continue our commitment to bring environmentally friendly mobility solutions to the people of Indonesia by showcasing the exterior and interior of Wuling's second electric vehicle for the nation, the BinguoEV. Not only that, starting today we also officially open the pre-book period for consumers. There are various benefits available by booking BinguoEV during this period," said Dian Asmahani, Brand and Marketing Director of Wuling Motors.
Wuling BinguoEV is Wuling's second product in the battery-electric vehicle segment in Indonesia after Air ev. Binguo itself is derived from two Chinese words, 'bin' which means 'numerous' and 'guo' which means 'result'. In addition, the pronunciation of Binguo is taken from the English word, 'bingo' which is an expression of happiness and satisfaction for the many successes achieved. Inspired by these philosophies, BinguoEV embodies Wuling's continued commitment as a leading electric vehicle manufacturer after the success of Air ev.
The presence of BinguoEV also complements Wuling's line of electric vehicles in the Indonesian market to provide choices that meet the needs of the community for environmentally friendly vehicles. For this reason, BinguoEV is offered with two mileage variants, namely 333 km to 410 km, which provides more comfort for consumers to travel long distances with this electric vehicle.
Wuling's latest line of electric vehicles can be ordered starting today and Wuling presents benefits in the form of Electric Icon Priority Pack with a value of Rp47,000,000 specifically for the first 1,000 consumers who order the 410 km variant during this pre-book period. The package consists of a Lifetime Core EV Components Warranty for the power battery, drive motor, and motor control unit, free periodic maintenance for up to five years, an electricity voucher worth Rp4,000,000, free AC Charging Pile, and free accessories (storage box, window film and carpet). In addition, consumers who order BinguoEV with a mileage of 333 km, get a free AC Charging pile and accessories (storage box, window film, and carpet). All promos are subject to the terms and conditions.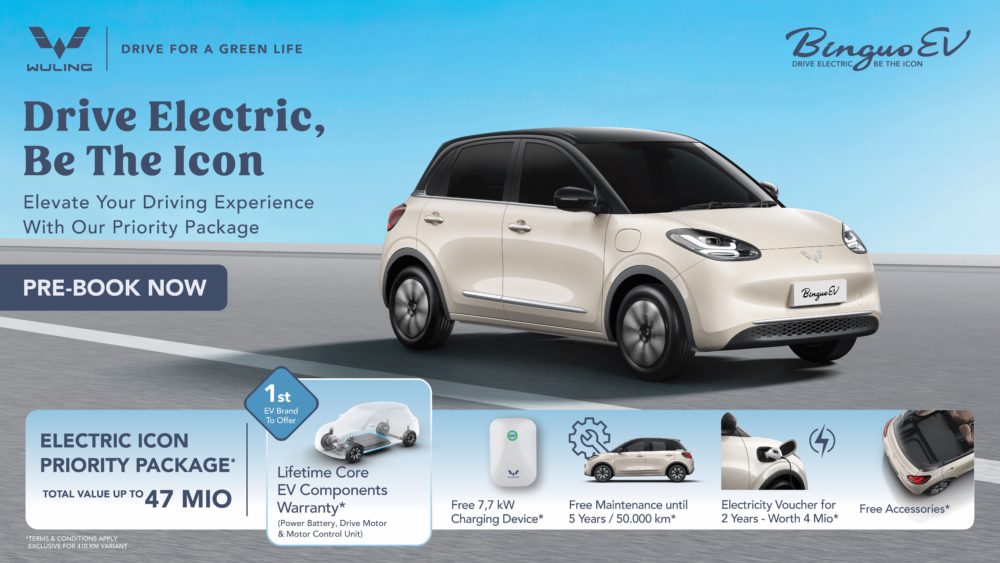 Battery is an important factor that consumers consider in choosing an electric car. The Wuling BinguoEV battery is IP67 certified and has passed various tests, making it safe to use. This electric vehicle has sold 1.6 million units and until now there has never been an incident of battery damage. As a form of worry-free service, we provide a lifetime Core EV Component warranty including the power battery, drive motor, and motor control unit. This is the first time in Indonesia that an electric car manufacturer has provided such a service to its customers," Dian added.
For consumers who are interested in owning the Wuling BinguoEV, Wuling opens the pre-book period as a special opportunity that is certainly not to be missed. Visit the Wuling exhibition area at Summarecon Mall Serpong or the Wuling dealer network, or access the Wuling.id website to pre-book Wuling's latest electric car.