Wuling Launches Its First Hybrid Vehicle in Indonesia, Almaz Hybrid
3 November, 2022
3 minutes read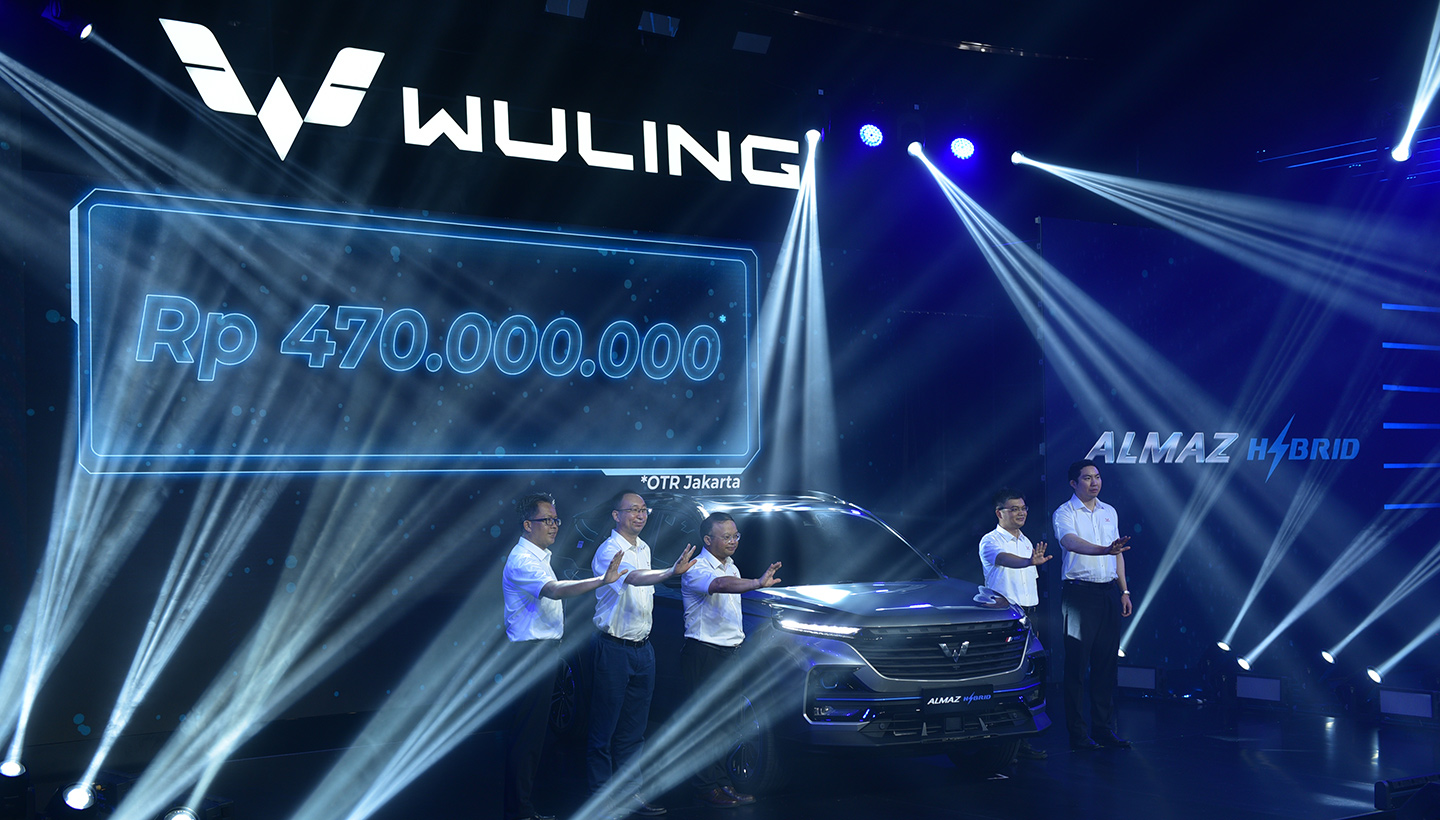 Combining exciting performance, driving efficiency and eco-friendly mobility
Jakarta, November 3 2022 – After being exhibited at the Indonesia Electric Motor Show (IEMS) 2022 event, Wuling Motors (Wuling) today officially launched its newest innovation in the form of its first hybrid vehicle in Indonesia called the Almaz Hybrid. This product line that becomes part of the development of eco-friendly mobility combines aspects of performance and driving efficiency in one. At the launch event held at the Jakarta International E-Prix Circuit, Ancol, Wuling also announced the price for this newest innovative product, which is IDR 470,000,000 (OTR Jakarta).
"The success achieved by Air ev as a modern mobility solution, we are even more motivated to strengthen our commitment by delivering low-emission vehicles. This time, we also added the performance aspect that comes with this hybrid innovation. We create a combination of powerful performance, fuel efficiency, and environmentally friendly mobility through the Almaz Hybrid, the perfect combination to present an exciting driving sensation so that it can be chosen by Indonesian people. Almaz Hybrid is also proof of Wuling's commitment to provide the best for Indonesia," said Arif Pramadana as Vice President of Wuling Motors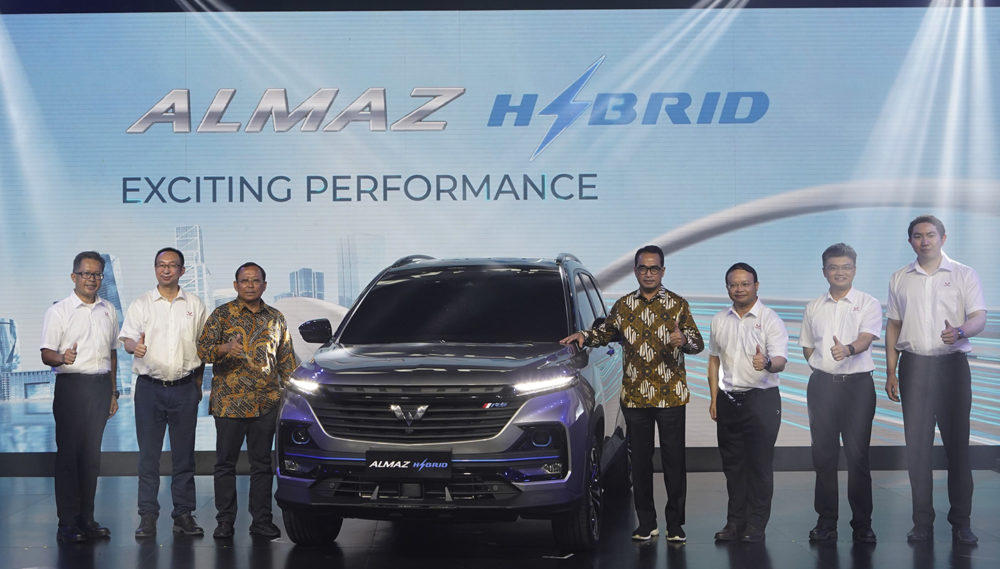 Almaz which means diamond is an iconic Wuling product line in the country. It started with the Indonesian voice command innovation at Almaz in 2019, which made people familiar with 'Halo Wuling'. Then it continues with the Internet of Vehicle (IoV), and Advanced Driver Assistance System (ADAS) innovation in 2021 which makes Almaz RS bear the title of The First Leading Intelligent Digital Car. Then this year, Wuling presented hybrid innovation through Almaz Hybrid, which made it the highest caste of the Almaz family.
Almaz Hybrid carries a 2,000cc petrol engine that produces 123 hp with 168 Nm of torque, a competent electric motor with 174 hp and 320 Nm of torque and is supported by a 1.8 kWh battery. This combination results in lower emissions as well as improved fuel efficiency and provides impressive driving performance. Dedicated Hybrid Transmission (DHT) technology was also developed specifically to distribute power quickly and without delay with a choice of three driving modes, namely EV Mode, Series Hybrid, and Parallel Hybrid which are regulated through the vehicle's intelligent system.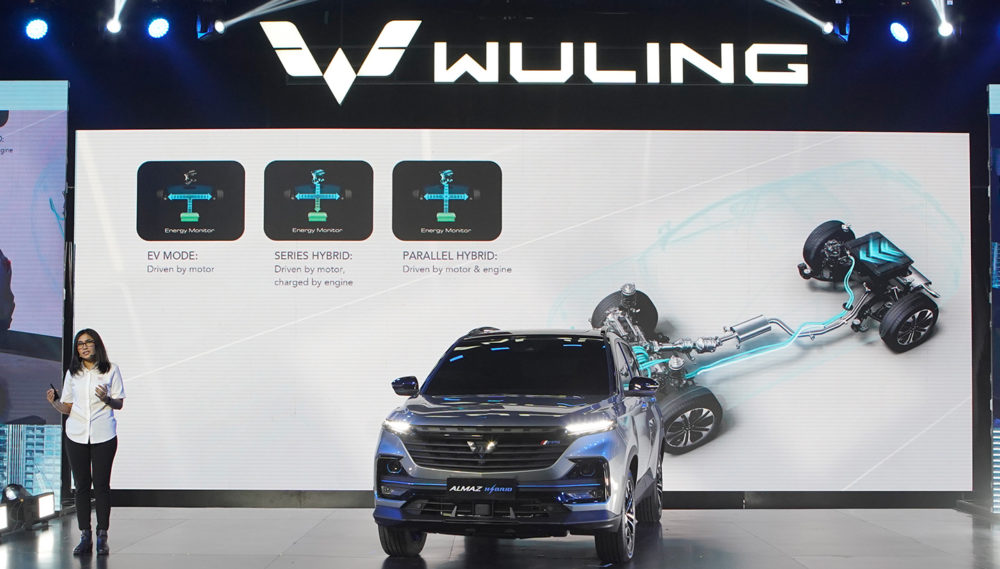 Moving to another sector, Wuling also provided an update in the interior area of the Almaz Hybrid which highlighted a premium and classy impression due to the use of warm beige nuance. Broad Panoramic Sunroof, Warm Beige Leather Seats which completes the spacious cabin and seat configuration for up to 7 passengers, making every driving moment more enjoyable. For the exterior design, it remains sporty and dynamic, but the appearance is given a distinction by the Prominent Hybrid Emblem, Dynamic Blue Lines, and also 18" Alloy Wheels. There are four color choices offered by Wuling, including Starry Black, Pristine White, Aurora Silver, and Carnelian Red.
Regarding its driving technology, Almaz Hybrid is a complete package. The latest Wuling SUV is supported by the Advanced Driver Assistance System (ADAS), Internet of Vehicle (IoV), and the first Indonesian voice command, namely Wuling Indonesian Command (WIND). In addition, the Almaz Hybrid is equipped with complete safety features.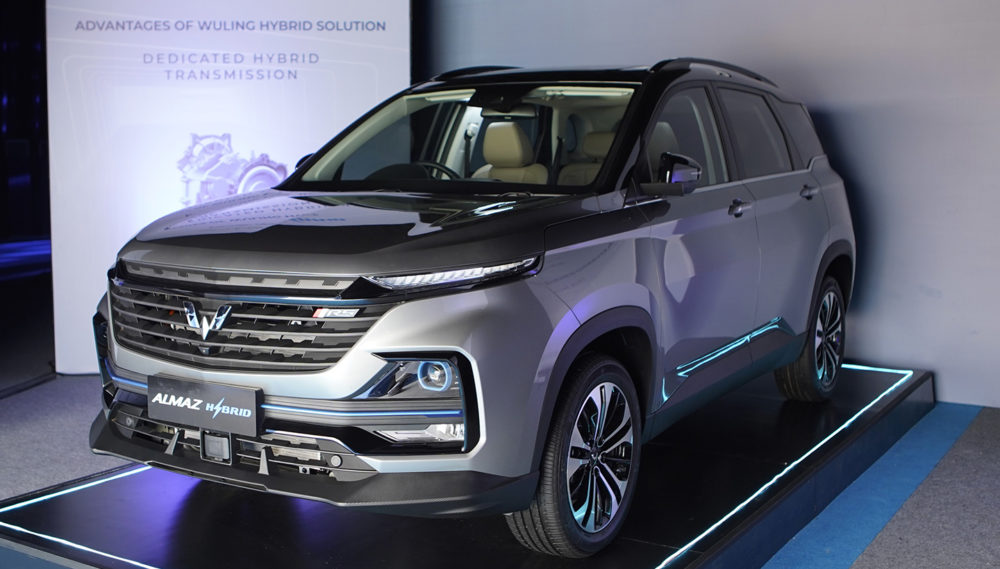 Regarding after-sales service from Almaz Hybrid, Wuling provides a general warranty of 3 years or 100,000 kilometers, a battery warranty of 8 years or 120,000 kilometers, a warranty on the main components of an electric motor for 3 years or 60,000 kilometers, and a DHT transmission warranty of 5 years or 100,000 kilometers with terms and conditions apply.