Wuling Collaborates with Gardu House to Create A Mural Art on Air ev
8 March, 2023
4 minutes read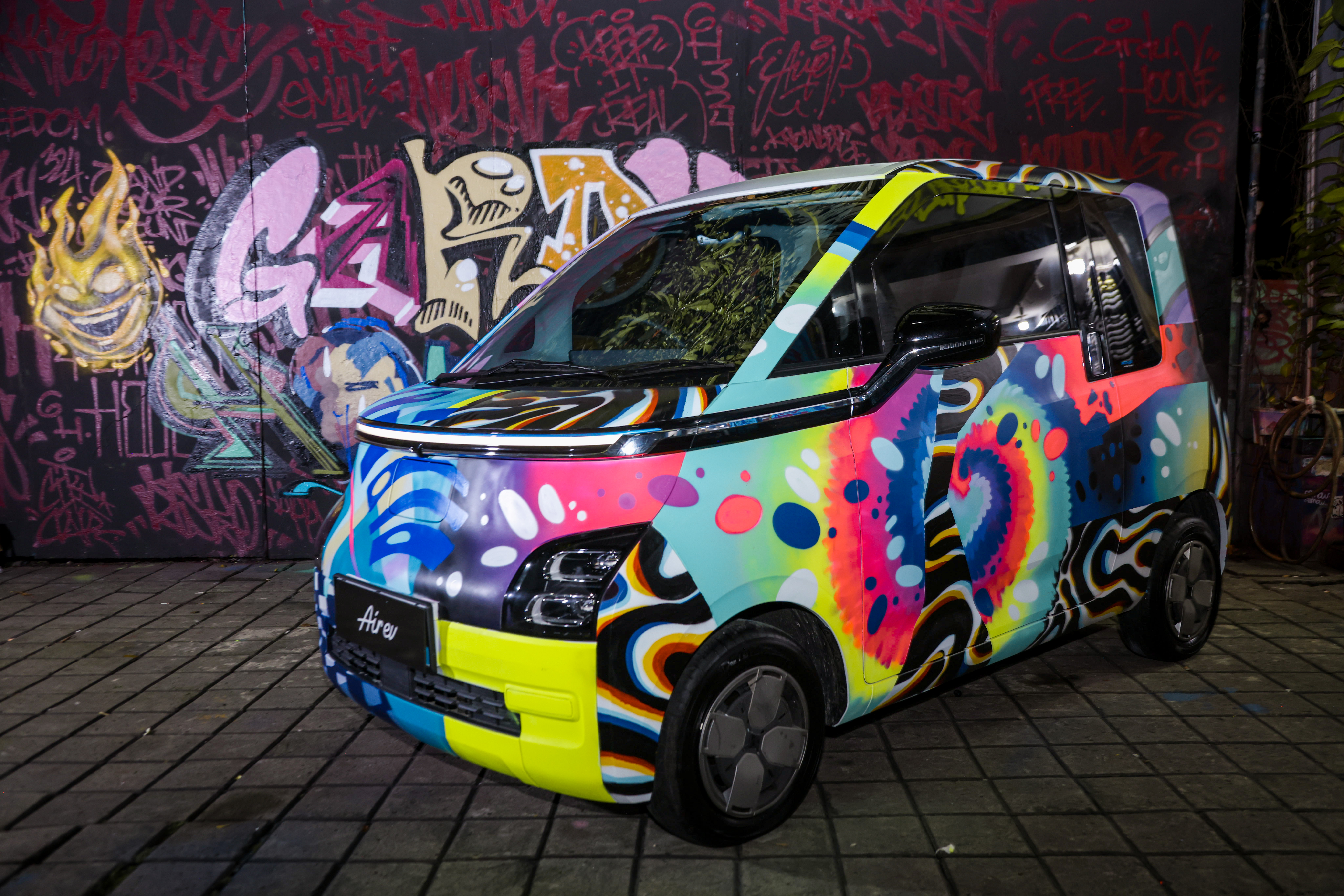 The combination of graffiti artwork with the future-tech look of Wuling Air ev that is easy to personalize
Jakarta, 7 March 2023 – Wuling Motors (Wuling) collaborated with the mural and graffiti artist community Gardu House to hold an activity titled 'Airverywhere' last Sunday (5/3) in the Pesanggrahan area, South Jakarta. In this activity, Wuling also provided a test drive unit that community members could try during the event. In addition, two mural artists from Gardu House, namely Smok13 and Folker, contributed their expertise in mural art to a Wuling Air ev unit which became the object of the graffiti painting.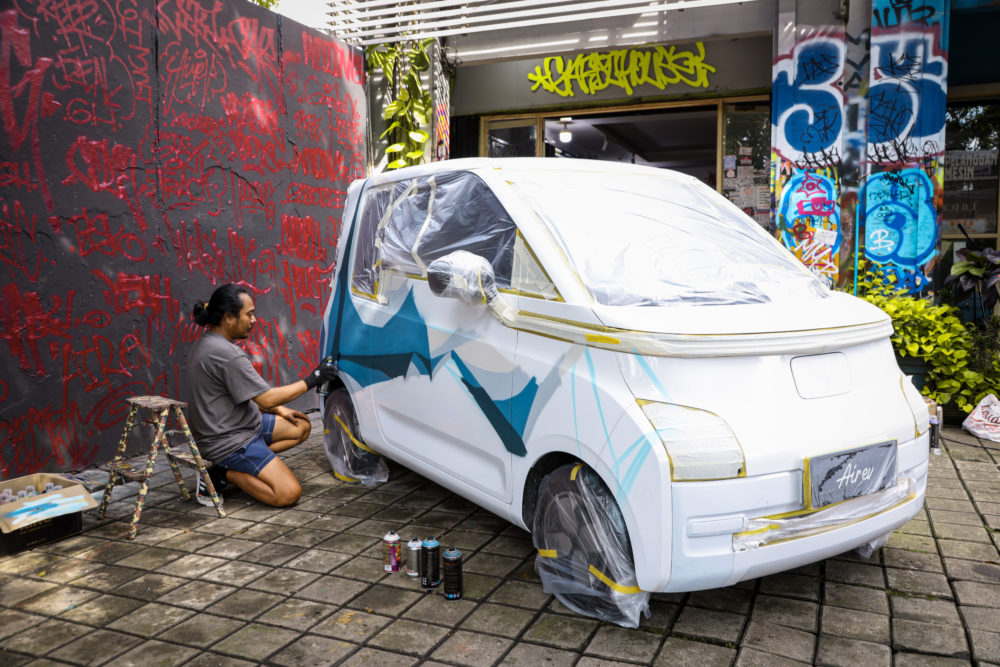 "One of the uniqueness of Air ev that we are bringing up this time is that it is easy to personalize. With the compact size and unique design, it is easy to personalize according to the taste and idea of each user. Therefore, we are collaborating with Indonesian mural artists who are members of Gardu House to pour their inspiration and creativity with Airev," said Dian Asmahani as Brand and Marketing Director of Wuling Motors.
The 'Aireverywhere' activity is an initiative that is coming from Wuling and the Gardu House community in providing opportunities for community members to test all the easiness offered by Air ev as a city mobility solution. This activity is also a place to show Gardu House's creativity by utilizing an Air ev unit to be personalized with murals created with each artist's distinctive style which is broadcasted live through @Gardu House Instagram account.
"Each work of art certainly has a meaning that the artist behind it wants to tell with their own style. From its unique and attractive looks, Air ev is very suitable to be used as a medium for self-expression through artwork, modifications, or personalization in other forms, as we did today," explained Smok13, one of the Gardu House artists.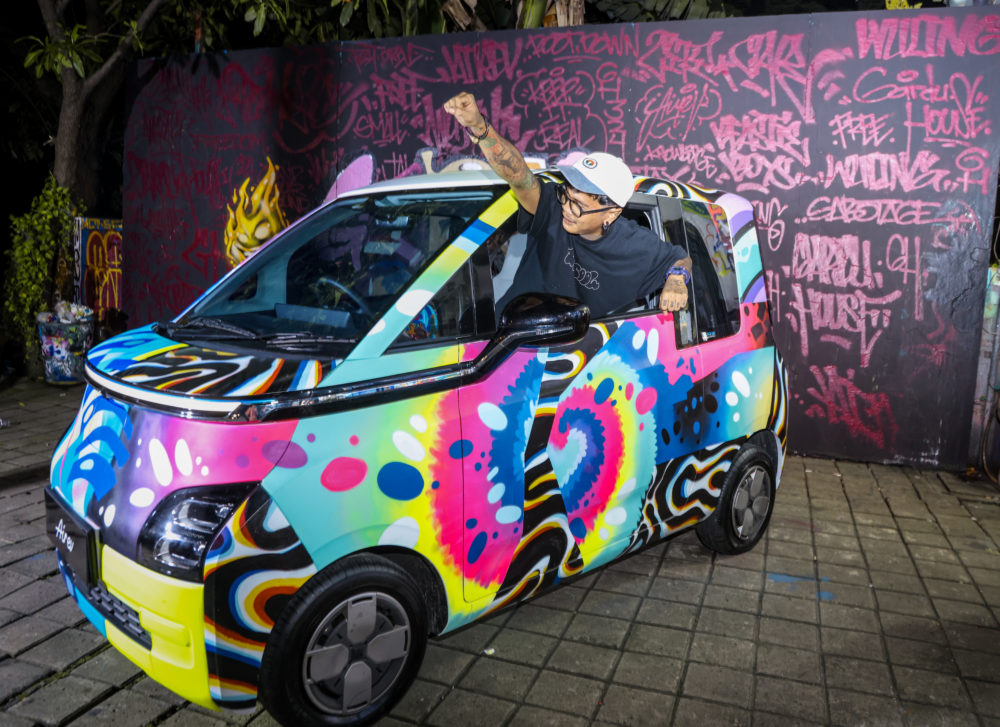 On the other hand, Folker explained that the graffiti artwork depicted on Air ev highlights color choices and image concepts that symbolize the spirit. This represents the spirit of the Indonesian people who are always eager to thrive in the difficult post-pandemic conditions and rise to continue a better life. The combination of colors and concepts from these two artists was applied in the graffiti works all over the exterior of Air ev.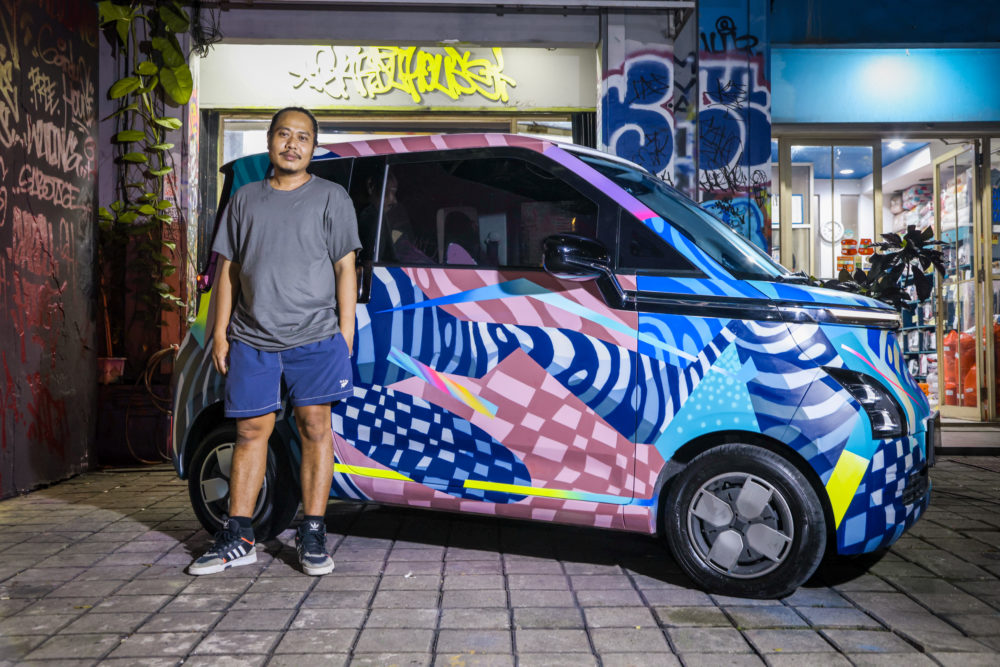 Apart from highlighting the aspect of Air ev which is easy to personalize, Wuling also provided a test drive unit that Gardu House members could test around the event location. On this occasion, community members could try the 'easy to use' feel of Air ev that is easy to maneuver and drive on urban streets. In addition to that, test drive participants could experience a series of sophisticated innovations embedded on Wuling Air ev such as the smart voice command feature in Indonesian and the Wuling Remote Control App.
In order to add to the excitement of the event, Wuling and Gardu House also held a photo competition for the participants who attended this activity. The participants were invited to capture the moments of driving or posing with Air ev and uploading the photos on their respective Instagram social media accounts. Participants with the most interesting photos are selected directly and get attractive prizes from Wuling and Gardu House.
Moving from the  easy to personalize and use aspects, this Wuling Air ev is also easy to recharge and easy to own. This emphasizes the fact that Air ev carries the concept of easy home charging which makes it easier for users to charge the battery even at home and this compact electric car is fairly easy to own through its ease of maintenance and affordable periodic service fees.